As an aviation nut, I bookmarked Airliners.net and check for "cool" photos on the site everyday. This week, I drooled over some interior shots of Emirates Airlines Airbus A380. The pictures of economy class are nice, but honestly who really likes economy class ? Frankly, I was having plane-gasm when I looked at those first class suites' photos.

For those aviation illiterate, A380 is the latest and BIGGEST double decker passengers airliners. Here are the photos :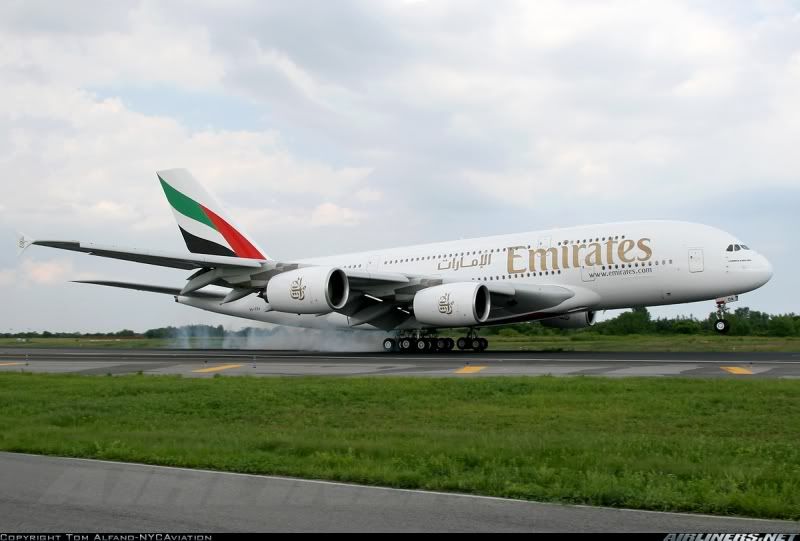 This is Airbus A380 landing at JFK international airport, NY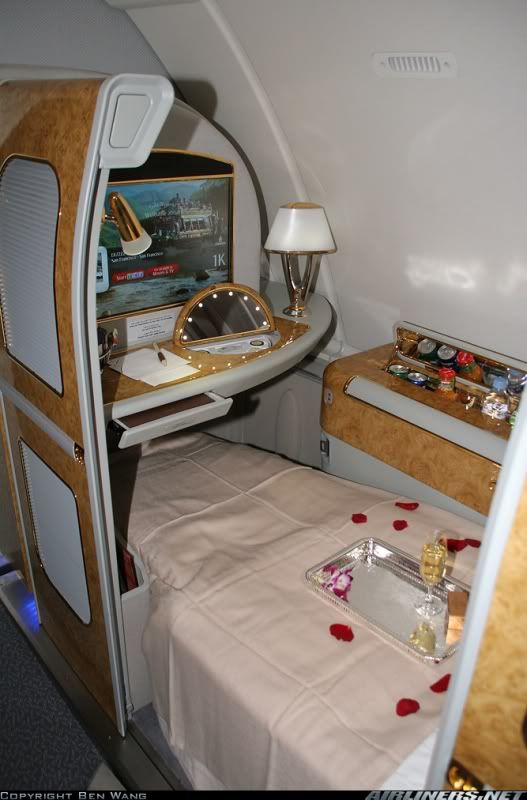 The first class suite of Emirates A380(with the bed folded down)
Whenever I played Flight Simulator (on my pc), I usually leave it on autopilot while cruising and then go to take my bath, sleep or doing my chores. Well, before A380, whenever you are traveling long-distance, you have to sit down on your seat the entire time and the only thing that you can do is either sleeping, eating or watching some crappy in-flight movies. Let's say that you are a CEO of a multinational company and you forget to take your bath before your flight to New York, fret not, now you can take your bath in flight.
The bathroom for first class suite
The bar for first class passengers. I wonder how those stuffs gonna hold on during turbulence
The stairways to heaven the upper deck

Let's compare with
the little red dot airlines,
Singapore Airlines, which operates A380 as well.
Double bed, checked, free flow of champagne, checked, BUT no sex allowed ! Only God knows what those Singaporeans were thinking.
Moving on, after being impressed by the
Emirates Airlines
A380, I decided to pay their website a visit.
The frontpage of Emirates website
So, I remember I have holiday during the month of November, so maybe I could travel to New York for two weeks ?
From Dubai (DXB) to New York(JFK) on the First Class
The price quoted was AED 36530.
Of course, they have this thing called currency converter which converts AED to MYR which showed RM 32081.
Then when I wanted to proceed to confirm my flight itinerary...
Dang, blame the Emirates IT team for their loss of RM 32081 worth of business deal.